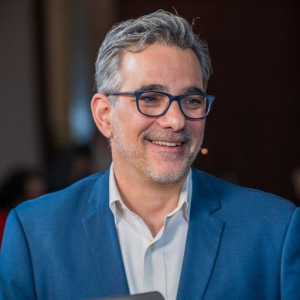 Dr. Seth Dobrin is IBM's Global Chief AI Officer and leads the corporate AI strategy. In his role, Seth is responsible for connecting AI development with a systemic creation of business value and providing his perspective and experiences to IBM clients.
Seth created a human-centered methodology that enables organizational change through a bespoke design-driven framework for data and AI that drives the implementation of solutions that solve real business problems.
Trust, fairness, and inclusiveness are the differentiators of Seth's approach to AI for business. Seth's outcome-based strategy fundamentally changes every company's area, from business operations to product development, by ensuring continuous and responsible delivery of tangible business results.
Before being appointed as Global Chief AI Officer, Seth led the digital transformation of IBM's Cloud and Cognitive Software business as Chief Data Officer. In that role, Seth's mission was to fundamentally change how the IBM C&CS unit is operated by surfacing the data needed by the business to run more efficiently. The process and strategy employed by Seth are laid out into a collection of articles describing how an enterprise can begin growing data science and AI: Six Steps Up: From Zero to Data Science for the Enterprise.
His experience in transforming companies through data and AI, and his far-sight vision make Seth a transformational leader that innovates companies' culture by advocating for diversity and inclusiveness.
One of Seth's most significant accomplishments in the realm of business transformation is the creation of the IBM Data Science Elite: the team, which is highly diverse and composed of multidisciplinary experts, was designed to help clients successfully executing, operationalizing, and scaling AI in the Enterprise. The success of the Data Science and AI Elite team dwells in Seth's data-driven approach to hiring diverse talents featured by Forbes.
The principles of diversity and inclusiveness are also at the core of the IBM Data Science Procession Board, of which Seth is the chairperson, and the women's diversity network GROW, of which he is the co-founder.
Seth is a prominent voice and prolific writer in trustworthy AI, AI governance, and enterprise digital transformation. By sharing his expertise in innovating companies through data and AI, Seth has helped several Fortune 500 companies design an AI strategy and execution plan to accelerate their business transformation.
Session
Wednesday Keynote -Dr. Seth Dobrin

In this session, Dr. Seth Dobrin, IBM's first-ever Global Chief AI Officer, will share how he created a human-centered framework to operationalize AI at scale. By sharing his experience in leading data and AI transformations for multinational companies, Dr. Dobrin will show how IBM uses this framework to address the most urgent challenges businesses face […]